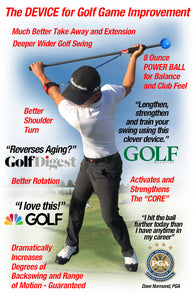 100% GUARANTEED WITH FREE 75 DAY RETURN SHIPPING. USE COUPON CODE "DISTANCE" ... PAY ONLY $97.00. DON'T PAY $139. ALSO...FREE UPS SHIPPING -$12.00
BENEFITS? GUARANTEED BETTER GOLF...
The "Fountain Of Youth" For Golfers
• GUARANTEED 20-25 YARDS ADDED DISTANCE TO YOUR DRIVES
• LONGER STRONGER IRON SHOTS
• Feel A Tremendous And Wonderful Stretch In Your Shoulders, Back And Hips
• Deeper Wider Golf Swings To Get To The True "TOP" Of Your Swing
• Stretches, Strengthens And ACTIVATES THE CORE Golf Muscles Used In A Golf Swing
• Better More Consistent Shoulder Turn
• Less Fatigue - Less Injuries - MORE STAMINA
• DOZENS MORE TO READ. READ DOZENS OF TESTIMONIALS HERE....
What Do You Recieve?
THREE DIFFERENT STRETCH RESISTANCE BANDS
LIGHT - ORANGE
MEDIUM - BLUE
RED - STRONG!
42 INCH POLYMER CLUB SHAFT
MARINE GRADE NEOPRINE ELBOW CUFF
SLIDER HANDLE WITH PERMA GRIP
8 OUNCE POWER BALL FOR CLUB LIKE FEEL
VideoGOLF Channel's Anna Whiteley On The "MISIG" Or "Most Important Stretch In Golf"....
How to use MISIG "MOST IMPORTANT STRETCH IN GOLF: By Inventor/Owner Bernie Fay *RESULTS GUARANTEED!
Golf Stretch, Golf Exercise And Golf Swing Train In One Brilliant Fluid Motion. Suitable for Indoor/Outdoor Use
LOWER HANDICAP GUARANTEED
SUPER SALE ON NOW!
PERFECT HOLIDAY GIFT TO GIVE OR RECEIVE!
20-25 YARDS ADDED DISTANCE ZERO RISK GUARANTEE
Works perfect indoors for year-round golf training.
ASTONISHIING RESULTS IN DISTANCE AND FORM GUARANTEED
YES IT'S THAT GOOD! FREE UPS GROUND SHIPPING WITH ALL ORDERS
Winner! "BEST NEW PRODUCT" PGA International Golf Show, Orlando, Florida
Used By PGA Certified Golf Instructors!
Golf Stretch, Exercise And Swing Train In One Fluid Motion.
GOLF GEAR WEEKLY:
"This Training Aid Is The Real Deal!"
COLORADO GOLFER MAGAZINE:
"Here's an effective, easy-to-use training aid that really works great and will help you improve your swing and increase your flexibility, and which you can use indoors and out."
FROM GOLF DIGEST...
"REVERSES AGING?"
GOLF.com/GOLF MAGAZINE:
"Lengthen, Strengthen And Train Your Swing With This Clever Device!"
DAVE NORMAND, PGA MASTER PROFESSIONAL:
"I hit the ball further today than I have anytime in my career."
GOLF CHANNEL, BRANDELL CHAMBLEE:
"I LOVE It. I absolutely Love This Thing. It Really Works!"
ESPN SPORTS, FRANK LAROSSA:
"After using MISIG  for about two weeks, I've noticed on my past couple of trips to the course how much easier I turn, how much farther my drives are going, and how much easier it is to complete a follow through. I'm a believer because this MISIG works"
Patented and Patent Pending
FREE UPS GROUND SHIPPING WITH ALL USA ORDERS (2-3 DAYS)
John Tillery–PGA Tour Instructor For Scott Brown, Roberto Castro, Brice Garnett, Kevin Kisner, Rick Lamb, Will McGirt, and Brandt Snedeker
"The MISIG is a wonderful training aid. Not only as a flexibility tool, but as a guide to feel the necessary loading and structure needed to produce a dynamic motion. As instructors, we want to quickly be able to give players a feel to accomplish a goal, and this aid makes quick work out of a lot of sloppy swings."
Shop Now
Works perfect indoors for year-round golf training.